Advertising Player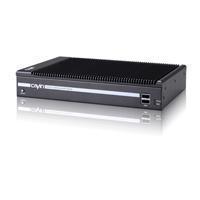 Advertising Player
Product ID: SMP-WEB4
Provided by Cayin Technology Co., Ltd., the web-based fan-less advertising player is a useful and practical information appliance. The product is supporting AV-in. Furthermore, this specific device is also equipped the playback of HTML/Flash/JPG and stored/real-time video playback in both portrait and landscape modes.

The advertising player products, while other people might call them "digital signage players" in some occasion, are widely used as a kind of information appliance. Cayin Technology regards the product as one of the featured items, providing the best function among the industry. If you are interested in our products, please do not hesitate and contact us today!
The advertising player features:
Multimedia Presentation

Web-based presentation; Supports most popular web languages.
Support to playback Flash® animation, HTML web page, image, text, and stored/live video
Play real-time video by directly connecting to a TV tuner, DVD player, USB Camera (UVC compatible), etc.
Support various resolutions for standard (4:3) and wide screens (16:9) in both portrait and landscape displays.

Easy & Flexible Content Creation in 2 Ways

Equipped with Cayin Skin Editor: Support to playback zone-type multimedia contents produced by CAYIN Skin Editor, with the advertising player users can create a program including skin, video, image slide show, Flash, ticker, and clock
Any web page/Flash editing tools is available in the device: Able to playback full-page html and Flash created by your own familiar web-editing tools and provide designers with the greatest flexibility.

Flexible Platform for Integration

Easily extend to an interactive platform incorporated with HID compliance touch screen, keyboard, or mouse device. Please check CAYIN's website for verified touch panels.
The advertising player possess great flexibility to integrate with existing network facilities, web servers (RSS, weather, etc.), and database.
Turn on/off screens, switch play lists, or control other devices by RS-232.

Local and Central Scheduling

Edit schedule directly on individual SMP or centrally control multiple players in groups by CMS server.
Edit play list and playback multimedia contents based on a pre-set schedule.
Turn on/off display and adjust volume manually or by a pre-set schedule.
Support screensaver function to switch playlists or schedules by a single touch

Powerful Remote Management

Manage each device remotely by a web-based user interface via wired/wireless network.
Complete step-by-step configuration via Wizard Mode.
Recover system remotely for easy maintenance.
Create log files recording the system status. Users can purchase SuperReporter 2 to generate advanced reports.
Manage the advertising player as a standalone system or incorporate it with CAYIN CMS server as a server-client structure.
Trigger emergency mode via CAYIN CMS server or SuperMonitor 3
Hardware watchdog timer, CPU temperature.

Content Update

Update multimedia contents by USB flash drive (offline), FTP, Network Neighborhood, or by CAYIN CMS server with automatic centralized content update according to the pre-set schedule through LAN or the Internet.
Specifications:
Dimension

268 (W) x 174 (D) x 47 (H) mm

Weight
Network

10/100/1000 Mbps Ethernet
802.11 b/g WIFI controller (optional)

Internal Storage
Video

VGA D-Sub, DVI-D (no HDCP support)

Audio
Video in
Audio in
Power request

100~240V AC (with external adaptor)

Others

2 x RS-232 (COM), 4 x USB
Order Information:
Minimum Order: Negotiable
Branded Product