Content Management Server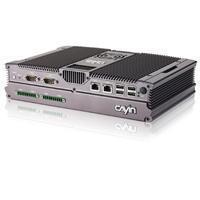 Product ID: CMS-40
Compact and reliable digital signage server for efficient media player management, content update, central scheduling, and steraming broadcast
Specifications:
Dimension:

67 (H) x 277 (W) x 194 (D) mm

Weight:

3.6 Kg (May differ between models)

Material:

Aluminum

Color:

Gray

Network:

10/100/1000 Mbps Ethernet controller; Protocols: IP, TCP, UDP, ICMP, HTTP, DHCP, RTB, SMB/CIFS, FTP

Storage:

320G Byte, 2.5'' SATA Hard-disk drive

Video in:

RCA or S-Video x 0 or 1



Audio in:

Phone jack x 0 or 1



Connector:

RJ-45 (Ethernet) x 1

USB 2.0 x 4

VGA D-SUB x 1

DVI-D x 1

Power connector x 1
Features:
Efficient Management of Multiple Digital Signage Players
One CMS-40 server can control a maximum of 80 SMP players simultaneously. Instead of configuring media players one by one, you can manage all of them at the same time via the server's web-based user interface from any existing computer. Administrators can also locate SMP players on Google Maps when SMP players activate the location/GPS function.
Live Streaming Video Channels
CMS-40 can manage max. 1 video signal per server and up to 64 inputs for the whole system. It can transmit streaming data to SMP players by means of LAN broadcasting, multi-casting, or uni-casting and provides the most updated, multimedia entertainment for digital signage networks.
Central Scheduling
You can edit playlists and schedule playlists in minutes on a weekly basis or schedule a one-time event for all SMP digital signage players in groups. SMP players will playback multimedia content automatically based on the schedule assigned by the CMS server.
Secured Decentralized Management
Administrators can create multiple user accounts and authorize each account to possess different access rights. Usernames and passwords are required to access the user interface and media folder.
Instant Alert Broadcasting
You can activate the alert mechanism and broadcast emergency messages to a particular group or to all groups. Emergency messages can be presented in many formats, such as texts, images, video, HTML, etc.
One-Time Investment
There are no extra fees or licenses for adding media players to work with the CMS server, no matter the number.
Two Ways for Content Update
Multimedia content can be updated by FTP and Network Neighborhood.
Order Information:
Minimum Order: Negotiable
Branded Product