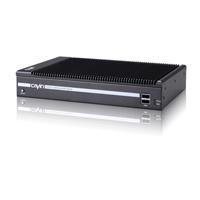 Zone-Type Digital Signage Media Player
Product ID: SMP-PRO4
Zone-type fanless digital signage player with AV-in supporting portrait mode, real-time video, playback of image slide show, ticker text, video, and clock in maximum six zones.
Specifications:
Dimension

268 (W) x 174 (D) x 47 (H) mm

Weight
Network

10/100/1000 Mbps Ethernet
802.11 b/g WIFI controller (optional)

Internal Storage
Video

VGA D-Sub, DVI-D (no HDCP support)

Audio
Video in
Audio in
Power

100~240V AC (with external adaptor)

Others

2 x RS-232 (COM), 4 x USB
Features:
Multimedia Presentation

Zone-type presentation supporting one background design, one multimedia (stored video/streaming video/image/music) area, two image slide show areas, one ticker area, and one clock & date area
Support easy settings of ticker by entering texts directly in the web-based user interface, or feed texts from a text file, URL, or RSS feed.
Play real-time video by directly connecting to a TV tuner, DVD player, USB Camera (UVC compatible), etc.
Support various resolutions for standard (4:3) and wide screens (16:9) in both portrait and landscape displays.

Easy Template Creation

Equipped with pre-designed skins and stylish clocks for users to create attractive presentations easily.
Packed with a handy tool, Skin Editor, with an intuitive drag-and-drop user interface. Users can define the size and location of each zone freely and create skin and clock files.

Local and Central Scheduling

Edit schedule directly on individual SMP player or centrally control multiple players in groups by CAYIN CMS server.
Edit playlist and playback multimedia contents based on a pre-set schedule.
Turn on/off display and adjust volume manually or by a pre-set schedule.

Powerful Remote Management

Manage each player remotely by a web-based user interface via wired/wireless network.
Complete step-by-step configuration via Wizard Mode.
Turn on/off screens, or control other devices by RS-232.
Recover system remotely for easy maintenance.
Create log files recording the system status for management and analysis purposes. Users can purchase SuperReporter 2 to generate advanced reports.
Manage the player as a standalone system or incorporate it with CAYIN CMS server as a server-client structure.
Trigger emergency mode via CAYIN CMS server or SuperMonitor 3
Hardware watchdog timer, CPU temperature.

Content Update

Update multimedia contents by USB flash drive (offline), FTP, Network Neighborhood, or by CAYIN CMS server with automatic centralized content update according to the pre-set schedule through LAN or the Internet.
Order Information:
Minimum Order: Negotiable
Branded Product