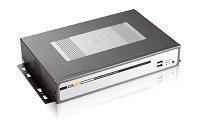 Dual Display,Web-based, Full HD Digital Signage Media Player
Product ID: SMP-WEBDUO
Web-based dedicated digital signage player equipped with the capability to control two screens both in portrait and landscape simultaneously and support high quality 1080p Full HD video
Specifications:
Dimension

275 (W) x 181 (D) x 50 (H) mm

Weight
Network
Internal Storage
Video
Audio
Video in
Audio in
Power

100~240V AC (with external adaptor)

Others
Certificate
Features:
Multimedia Presentation



Web-based presentation; support to playback 1080p Full HD video, Flash® animation, HTML web page, image, text, and two videos.


Play real-time video by directly connecting a TV tuner or other devices to S-Video input jack or incorporated with USB camera (UVC compatible).
PEasily extend to an interactive platform incorporated with HID compliance touch screen, keyboard, or mouse device. Please check CAYIN's website for verified touch panels.
Possess great flexibility to integrate with existing network facilities and databases.

Easy & Flexible Content Creation in 2 Ways

CAYIN Skin Editor: Support to playback zone-type multimedia contents produced by CAYIN Skin Editor, with which users can create a program including skin, video, image slide show, Flash, ticker, and clock.
Any web page/Flash editing tools: Able to playback full-page html and Flash created by your own familiar web-editing tools and provide designers with the greatest flexibility.

More Flexible Combinations of Displays

Support various resolutions both for standard (4:3) and wide screens (16:9). You can even define a suitable resolution by yourself to match your screen.
Support both single and dual display on portrait or landscape screens.

Unique Dual Display

One SMP-WEBDUO player can connect to two screens and support four signal output modes:
Single mode: connect to one screen
Distinct mode: two screens present different contents
Clone mode: two screens present identical content
Extended mode: two screens link together and present one content extending across two screens

Powerful Remote Management

Manage each player remotely by a web-based user interface via wired/wireless network.
Complete step-by-step configuration via Wizard Mode.
Turn on/off screens, or control other devices by RS-232.
Turn on/off screens and adjust volume manually or by a pre-set schedule.
Edit playlist and playback multimedia contents based on a pre-set schedule.
Support screensaver function to switch playlists or schedules by a single touch
Recover system remotely for easy maintenance.
Create log files recording the system status. Users can purchase SuperReporter 2 to generate advanced reports.
Manage the player as a standalone system or incorporate it with CAYIN CMS server as a server-client structure.
Trigger emergency mode via CAYIN CMS server or SuperMonitor 3


Support hardware watchdog timer; able to check CPU temperature and fan speed. It is equipped with Smart Fan function. When CPU temperature is below 40

℃

, the fan will stop, prolonging the life of the fan.



Content Update

Update multimedia contents by USB flash drive (offline), FTP, Network Neighborhood, or by CAYIN CMS server with automatic centralized content update according to the pre-set schedule through LAN or the Internet.
Order Information:
Minimum Order: Negotiable
Branded Product